Walk/ Wade Fishing Trips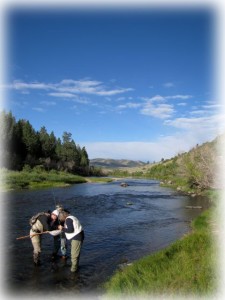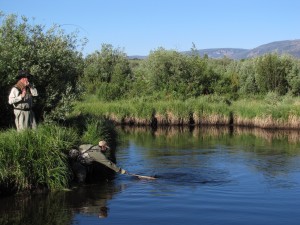 North Park Anglers offers both full and half day walk/wade trips on public and private water. With the diversity of streams and rivers throughout the valley, a walk-in fishing adventure can be the best way to discover what North Park has to offer. Whether your interest lies in fishing the smaller tributary streams or the rugged canyon of the Upper North Platte River, our guides will share with you their intimate knowledge of these waters. We have access to nearly 50 miles of public water, which feature 3 different wilderness areas and hardly sees angling pressure. Everything from meandering stretches of meadow streams and high gradient alpine creeks to wide shallow riffles in the valley section of the Platte. With the amount of variety available we like to customize each and every trip to meet our client's desires.
We also have access to many private stretches of river in the valley that we own and lease including the North Platte, North Fork, Illinois, Norris Creek, Roaring Fork, and Canadian Rivers. These stretches are carefully managed and rested to ensure our clients have a quality fishing experience on some of the best waters North Park has to offer. On a typical guided fishing trip on private water anglers will get the opportunity to fish 2-3 different streams in a day. If you want to see Big Wild Brown Trout act like they're swimming in New Zealand then give us a call and book a trip on our private water.
BOOK NOW?
Would you like to book a Trip? If so please call (970) 723-4215 or shoot us an email at info@northparkanglers.com and let one of our seasoned team members guide you through the process. We don't have a "Book Now" feature on our site because we want to talk with you, our valued customer, and make sure we understand exactly what you're looking for in a guided fishing trip with North Park Anglers. How can we meet the needs and desires of your group if we just allow you to select a trip online? There are many intricacies to gearing up for a fishing trip (experience) and by taking a few minutes to chat with us we'll only get another step closer to reaching our goal of meeting your expectations. Let us get to know you and your group and we'll pick the right spot, the right guide, and show you all of what we love about North Park and our fishery. Give us a call today to begin your adventure! (970) 723-4215
Walk Wade Rates
1 Angler Half Day (4 Hours) $275.00 *Half Day Trips not available June 1- September 30*
2 Anglers Half Day (4 Hours) $350.00 *Half Day Trips not available June 1- September 30*
3 Anglers Half Day (4 Hours) $450.00 *Half Day Trips not available June 1- September 30*
1 Angler Full Day (8 Hours) $350.00
2 Anglers Full Day (8 Hours) $450.00
3 Anglers Full Day (8 Hours) $600.00
* $85 Half Day, $125 Full Day rod fees "per angler" in addition to rates above for private water