The Buffalo Creek Lodge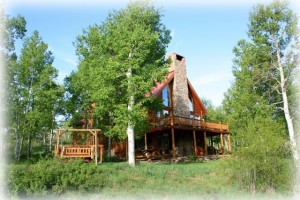 For anglers seeking all the amenities of a full-service fishing lodge, the Wapiti Lodge (Wapiti…Arapaho Indian word meaning "white rump," or elk) awaits you in a tranquil aspen grove at 9,000 feet of elevation. This beautiful, six bedroom retreat sits in the heart of our Buffalo Creek Ranch and ensures guests a luxurious stay. From its three story front windows, guests are frequently treated to elk lazily feeding in the meadow or mule deer browsing on the hillside.
This full service lodging option includes everything that you and your family or friends could hope for: delicious and hearty meals, luxurious accommodations, intimate group sizes, and guided fishing on all the clubs waters; and even some additional waters available to only those guests staying at our lodge. Additionally, there other activities to enjoy such as horseback riding, trap shooting, hiking, wildlife viewing, and ranch tours.
To learn much more about this premium lodging option, please visit the Buffalo Creek Ranch website at www.buffalocreek.com or call our office (970-723-4215 or 970-723-4045) to check on availability.