Fall Fishing in North Park means Big Brown Trout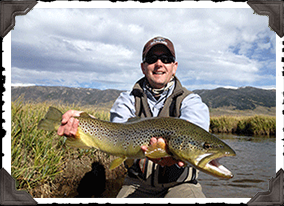 Fall is approaching quickly here in North Park.  The grasses, willows, and aspen trees are already starting to turn.  Fall fishing here in the Park means tossing huge flies for big browns.  Come join us on our private water for a Fall fishing trip to help you get that last big fish of the year.  Our smaller tributaries and the North Platte will be producing big brown trout from now through October.
Call us to book (970) 723-4215…  Fish On!