Trips We Offer
North Park's Diverse and dynamic fisheries provide fly fishers with seemingly endless angling options. These amazing choices can be somewhat intimidating however, and hiring a guide from North Park Anglers can not only teach you a new fishing technique or style, but also place you in the most productive and fun fishing spot for your desired angling experience.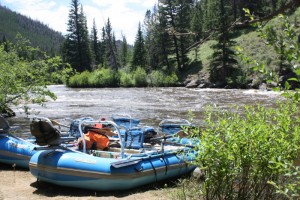 The guides at North Park Anglers are experienced, professional fly fishers who are full-time "trout bums," not just occasional fishing enthusiasts. We know every stretch and section of the rivers, lakes, and stream we fish, and have current knowledge of what, where, and when everything is happening in our beautiful valley.
Whether you need a first time casting lesson, a refresher in how to "hopper" fishing, or just a local to point out the good spots on the water, North Park Anglers' guides will take care of you in a friendly, patient, and professional manner. We know fly fishing.
NPA offers wade fishing trips on both public and private waters.  Our trips are half or full days.   Half days are four hours of fishing and full days are eight hours of fishing.  We also float trips on both rivers and lakes.  All float trips are designed for 1-2 anglers.  We use drift boats and rafts and they are set up for 1-2 anglers per boat.  Prices are based per boat not per angler.